Hunter's Needs
Seasoned Outfitter for Families and Outdoor Enthusiasts
Hunter's Needs and Mercantile welcomes you! We are a seasoned outfitter providing supplies to hunters and outdoor enthusiasts of Northwest Ohio. Situated along State Route 20, west of Bellevue, we keep our store shelves stocked and cater to a variety of outdoor pursuits.

Archery, guns and ammo, hunting and fishing supplies, pet and animal feed and medical products, name brand work clothing and boots and even equine supplies and show clothing are included in our diverse inventory.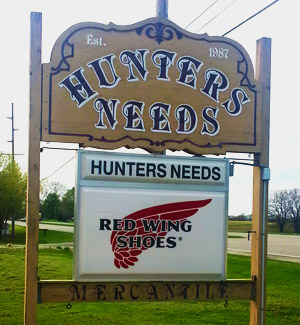 For over 27 years Hunter's Needs has provided the supplies to ensure a comfortable, enjoyable day or night afield. Coon hunters will find an abundance of items for themselves and their dogs. As one season opens and others close, Hunter's Needs is a step ahead by keeping the hottest gear on the shelves.
Friendly service has been and continues to be the foundation of our family-owned business. We are an outdoor store small enough to provide personable service yet big enough to outfit the grandest hunting experience.

We are proud to say we remain loyal to our many regular customers and the people that shop at our store and will always listen to their wants and needs. If we do not have what you are looking for, we will do our best to locate it. As you look at our site, you may find many new items and product lines we may not have had last year as we are always adding new items to our store to better serve you. Because of our love for the outdoors, we enjoy helping folks who come into Hunter's Needs enjoy their outdoor experiences, too. We hope you'll find the information you're looking for, and maybe even some information you'll find useful that you weren't looking for.
Stop in and see our fine selection of gifts and personal items
Western Jewelry
Western Belts & Buckles
Painted Ponies Collectibles
Cedar Mesa Pottery
Western Hats - Purses
Wallets & Billfolds
Knives
Wildlife Blankets
Fleece Throws
and so much more!
Address
Street: 1831 W. Main Street (Rt 20)
Postcode: 44811
City: Bellevue
State: Ohio
Country: United States
Contact
Telephone: 419-483-5789
E-Mail:

This email address is being protected from spambots. You need JavaScript enabled to view it.

Website: http://www.huntersneeds.net/